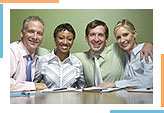 In today's competitive world, every employee is a valuable resource and every wasted moment is lost revenue. Today's business machines do more than simply Copy, Print, Scan & Fax. They work as "Super-Employees", increasing your productivity, thus saving you time and money.
We have chosen the best equipment available in the industry to support our clients. Our business partners from Copystar and Kyocera are providing us with world class Multifunctional Copiers, Printers, Engineering Equipment and Document Management Systems that provide the best value in the industry. With the lowest Cost Per Print in the industry and the High quality of the equipment, you simply can't go wrong.
Our professional Business Analysist will work diligently to find the best, most cost effective solution for your office equipment needs. From basic maintenance and repair, to friendly consultation and advice, SinglePoint Technology is only a phone call or e-mail away.
SinglePoint Technology employs only fully factory trained Service Technician's. Their unique skill's and expertise will get your office up and running quickly and efficiently.
What makes SinglePoint service different? We believe in being Pro - Active toward Copier / Printer Service and Repair. At SinglePoint, the goal is not to fix equipment, it's to prevent down time with a pro-active service policy providing our customers with quality service checks (Q&A's) and professional maintenance inspections (PMI's). We also carry a full line of supplies and parts for your Copystar products. From toner to software, SinglePoint Technology is your Copystar connection.
We will gladly provide telephone support during business at 303-702-0499. Or, you can contact us online 24 hours a day, 7 days a week.
At The SinglePoint Technology we strive to find the right solution for your busy office. We will not try to fit a machine to your environment we find the right machine for your needs. We have a wide range of products so we can provide you with the system that is just right for you.